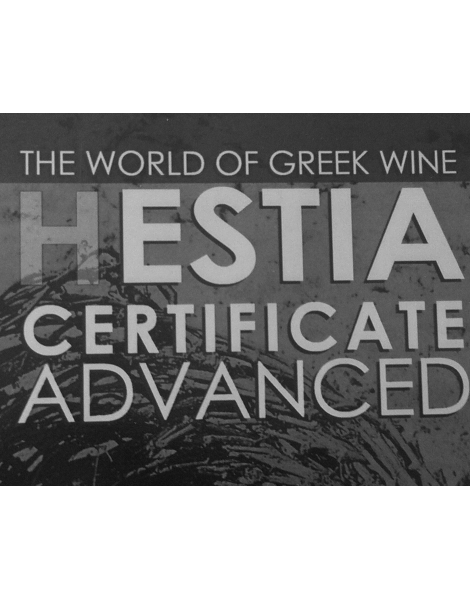 HESTIA – the world of Greek wine Certificate Advanced is the latest brainchild of Konstantinos Lazarakis MW and his team at Wine & Spirits Professional Consultants. They are a WSET approved programme provider, and have already educated many Greek wine lovers up to the diploma level. This brand-new course fills an important void, as it covers all aspects of Greek wines. At this point in time, the course is only available in Greek, and is being offered in Athens and Thessaloniki. However, it will be rolled out into English within the next 18 months, to be taught at interested WSET outlets and other independent wine education centres around the globe.
Konstantinos kindly asked for my participation as a "guest student" for the first pilot programme in Athens, which has just been completed. There were a total of 12 sessions, each lasting for about 2 ½ hours. I was not able to attend all, but most of them. The reading material alone consists of about 100 A4-pages and covers a wide range of subjects: History, geography and climate, work in the vineyards and wineries, label terms and wine legislation, the most important grape varieties, tasting techniques, all wine regions, Greek spirits and more.
Each session consists of two parts, a theoretical one where the information is presented in a lively and entertaining way, and a tasting session where up to 8 wines are evaluated. Konstantinos is the tutor in Greece, and really thrives in this position. He manages seemingly easily to combine theory with amusing and compelling interaction. He also never seems to run out of the funniest anecdotes; I enjoyed his lessons very much.
For each tasting part, the selection of the wines was truly outstanding, I am sure that many students were introduced to a large number of wines for the first time. Most were priced between 7 and 20 €, but he also presented a Retsina that cost 1,40 €, as well as treasures that are nearly  impossible to find, like a 1993 Chateau Carras, a 1996 sparkling rosé from Cair, or a 1979 Achaia Clauss Grande Reserve. I really appreciated that he included many wines from wineries that are less known even to Greeks and that one cannot find in the supermarket shelves. In my view, this makes the course much more educational.
The one part I am not a huge fan of is the format of the wine evaluation proposed by the WSET. While I appreciate that this might be necessary for beginning students to learn how to objectively form an opinion, I would like to see more encouragement for them to express themselves with their own words. Having said that, I do like that the alcohol content is part of the evaluation process and therefore also of the resulting written tasting note.
The HESTIA certificate advanced is an in depth course that offers a very solid foundation about the world of Greek wine. I have no doubt that this will be sought after by Greek wine lovers. Once this course will be available abroad, it has the potential to leave a real impact in the wine world. There is still far too little information available on Greek wines, and HESTIA manages to not only inform, but bring the Greek wines right into your glass for you to taste.