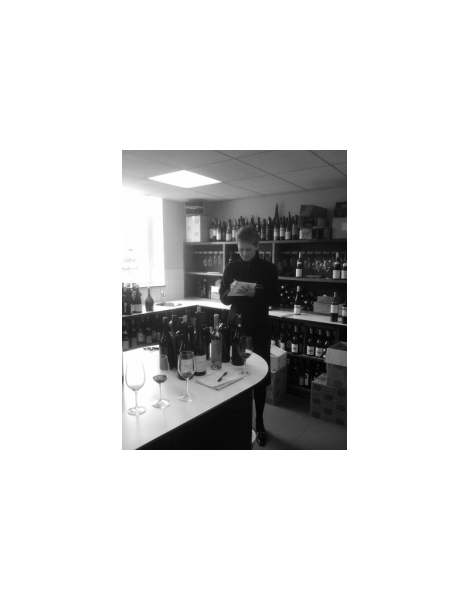 On the 26th of May I had the great pleasure of presenting some Greek wines to Joanna Locke, Master of Wine, at the Wine Society in Stevenage, UK. I woke up at 04:30 am and made my way to the Athens airport. I arrived in London Stansted at 09:30 am local time, boarded the Stansted Express into London Liverpool Street, took the tube to London's King Cross and from there the train to Stevenage.
I met Jo at 1 pm and presented three wines each from two estates: From Parparoussis (1) Nemea Reserve 2003 (100% Agiorgitiko), (2) Taos 2004 (100% Mavrodaphne), (3) Muscat of Rio 2003 (sweet white from 100% Muscat of Rio of Patras). I also showed the Kokkalis range: (1) Mova 2006 (Agiorgitiko, Cabernet Sauvignon), (2) Syrah 2006 (100% Syrah), Trilogia 2006 (100% Cabernet Sauvignon). All wines showed very well. Interestingly enough, the styles of the wines from the two winemakers come from opposite spectrums: Parparoussis produces very elegant, feminin wines that focus on the pure fruits, Kokkalis wines are powerful, concentrated and masculine. However, all wines were very seductive. The bottles were opened there, so the wines really did not have time to settle and breathe properly. Luckily Jo told me that she likes to evaluate wines over a minimum 24-hour period, revisting them several times to see how they evolve. I find this to be a very honest process of evaluating wines, rather than just having a quick swirl and sip.
Jo is a very charming and warm person with about two decades of wine experience – I believe she became a MW in 1990, and also chaired the Institute of Masters of Wine in 2008. It is so nice to see that one is still able to find professional wine-buyers that are very much down to earth and who simply love the work they are doing, especially in today's market environment. I am glad that she took the time to see me, and found our discussions very helpful. After our meeting, I visited the wine shop of the Wine Society (this is the only shop in the UK, a second one operates in France), where only members can make purchases. I made my way back to the airport (via the same route I came in) and arrived back home in Athens at 02:30 am. Quite a long day, but very much worth the effort.