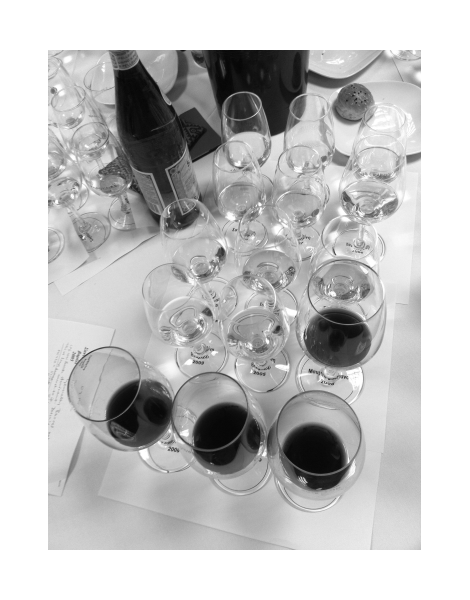 Paris Sigalas from Domaine Sigalas needs little introduction. He is likely the best known Greek winemaker both within and also outside of Greece. The following quote from wine critic Mark Squires, who amongst other countries also covers Greece for Robert Parker, sums up Paris' reputation perfectly: "This producer is universally acclaimed for his skill with Assyrtiko of all types – dry, barrel fermented and sweet – and I can only climb on the bandwagon. Sigalas is simply a master with this grape."
Last week, 15 different vintages of Domaine Sigalas were presented by Paris himself and Konstantinos Lazarakis MW as part of the now famous HESTIA Vertical Tasting Series (WSPC). My tasting notes follow below.
Santorini 2011, 13.7% alcohol: This was bottled just 4 days ago. Light lemon colour with silver tinges.  Vibrant aromas of grapefruit and minerals. Medium bodied with a screaming acidity, very pulsating, lots of lemon peel on the palate, mouth filling. The finish is excellent, quite an energetic wine with lots of finesse. 18/20
Santorini 2010, 14.2% alcohol: Touch deeper coloured with golden tinges. Gorgeous aromas of ripe fruit, minerals throughout. Full bodied with zingy acidity, lots of depth. This is multi-layered, complex, some hard edges with an outstanding and long lasting finish. 18+/20
Kavalieros 2009, 14% alcohol: A single vineyard bottling, the wine was aged on its lees for 18 months. Slightly paler compared to the Santorini 2010. The aromas are not as concentrated, rather restrained at first, yet elegant with a more pronounced mineral character. The Kavalieros is also a touch lighter on the palate, but shows a lot of finesse. It is nearly delicate, feminine in style, at the same time the wine is insistent, constantly lingering on the palate. A very different style to the Santorini offering, the finish is superb. 18/20
Santorini 2008, 14.2% alcohol: Deeper coloured with golden tinges. Aromas of lemon and steel, also biscuits. Full bodied with high acidity, this shows a great balance of muscle and finesse. There are also some exotic fruit nuances, it shines on the mid-palate and finishes solid. 17+/20
Santorini 2007, 13.5% alcohol: Medium deep lemon colour with a golden touch. Aromas are a little restrained, lemon, pink grapefruit, an elegant nose. Medium bodied, focused, with lively acidity and fine fruit nuances, also metallic, strong finish that keeps on lingering. 17+/20
Santorini 2006, 13.5% alcohol: Medium deep bright gold. What a superb nose! Fine depth, lemon, hints of honeysuckle, minerality, by far the most intriguing nose from all the wines shown. Full bodied with bursting acidity, explosive on the palate, mouth filling with multiple layers of complexity. This has a massive delicious factor; the finish is long and concentrated. This wine has it all, lots of finesse and a perfect balance, very serious indeed, a Grand Vin! 19(+)/20
Santorini 2005, 14% alcohol: A tad deeper coloured than the 06. It is more restrained on the nose, elegant aromas of lemon peel and biscuit. Full bodied, with a somewhat creamy texture, lots of minerality, think of an imaginable a liquid, salty stone. This is quite an expressive wine, complex and explosive. 17/20
Santorini 2003, 13.5% alcohol: Yet again a tad deeper coloured. Open and vibrant aromas of biscuit, metallic, exotic fruit, rich, could be mistaken for a top Chablis or Burgundy. Full bodied, concentrated and intense, the fruit is really just lingering in the background; this is all about the minerality. The finish is very long lasting. 18/20
All of the wines were truly outstanding, with the 2006 vintages being off the charts. Perhaps most remarkable is the sheer consistency of quality at such a high level, vintage after vintage.
Santorini Barrel Fermented 2010, 14.5% alcohol: Light lemon colour with silver tinges. Aromas of lemon, stones, some spiciness, the oak treatment is not at all overpowering. Medium bodied with solid acidity, the oak is perfectly integrated, very balanced indeed. The wine is complex with a very satisfying finish. 18/20
Santorini Barrel Fermented 2009, 13.5% alcohol: Touch deeper coloured. The nose is more obvious, the oak a little more pronounced. Aromas of flint and citrus fruit with metallic nuances. Medium bodied, very harmonious and balanced. There is a good amount of citrus fruit making its way through. Again, the oak is not at all overpowering. I like this a lot, very elegant with a super finish. The wine has depth and finesse, a great effort. 18+/20
Santorini Barrel Fermented 2005, 14% alcohol: Medium deep gold. Aromas of vanilla, butter, the lemon and mineral notes are more in the background. Full bodied, the oak is more present here, good acidity, quite mouth filling. The lemon character kicks in on the palate, also a noticeable salty component. The finish is strong and persistent. I prefer this slightly over the unoaked one. 17+/20
Personally, I do not feel that Assyrtiko from Santorini needs any barrel ageing, as it is such an expressive variety. However, if the oak treatment is applied in such a care- and masterful way, it can indeed add depth.
Mavrotragano 2005, 14.5% alcohol: Very deep blackberry colour with purple tinges. Forthcoming aromas of dark chocolate, tealeaves, some truffle, earthy. Full bodied, chewy, dark and broody – then black berries hit the palate. The tannins are still very pronounced, the acidity mouth watering. Certainly shows that Mavrotragano can age well. Bit rough on the edges. 16/20
Mavrotragano 2008, 14% alcohol: Dense dark purple/blue. Reserved on the nose, blackberries, spices, cassis and an earthy component. Full bodied, solid structure, a fistful of tannins, a matching acidity, cassis, dark fruit, cocoa. Elegant at first, powerful on the finish. 17+/20
Mavrotragano 2009, 14.5% alcohol: A touch darker, blue tinges. Also reserved at first, aromas of cassis and blueberries. Bags of fruit on the palate, cassis, cocoa, multiple layers of complexity. The tannins are clearly noticeable but more tamed, great balance. The finish is explosive and long lasting, a superb effort. 18+/20
Mavrotragano 2010, 14.5% alcohol: A barrel sample. Shiny deep purple/blue. Very open aromas of blueberries, more pronounced  fruit here than in the other vintages. Full bodied, the tannins are there but do not stand in the way. Lots of fruit extraction on the palate, dark berries. This is already delicious and finishes strong. Great potential. 18/20
Learn more here about the origins of Mavrotragano and read this entry for a detailed overview of the viticultural region of Santorini.
This was one of the most memorable tastings I have ever attended. Current vintages of Sigalas Santorini retail around 12 Euros or 20 USD. (B)eat that, Burgundy!