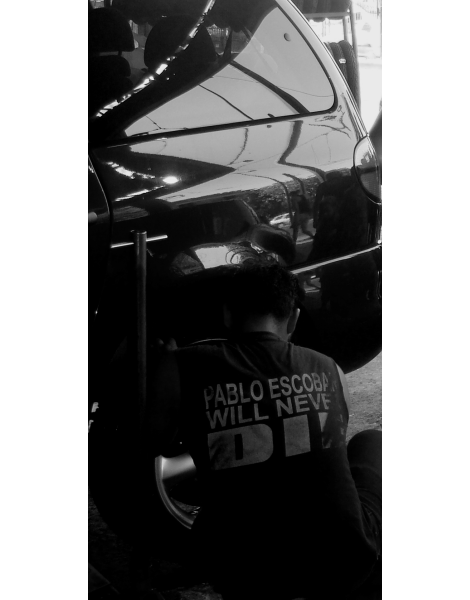 When I am in need for urgent help that requires some kind of service, my expectations in Greece are low. If that need arises on a Sunday morning, I know better than to even hope for a solution. I learned that one exception exists:
Last year in August we were due to leave for our family summer vacation. On a Saturday evening, I checked the air pressure of the tyres of my car; everything was fine. We had planned to leave at 8 am next morning. This was the exact time I discovered that one of the tyres was only 2/3 full. Somehow the tyre got damaged when I drove back from the petrol station the evening before.
I was desperate – in August, it is hard to find a garage that is open for business on a normal workday. Athens is deserted, as everyone is on vacation. How could I get help on a Sunday morning? We started making phone calls to friends to see if anyone had a suggestion. This was when I learned that one business exists in the heart of Athens that works on 24-hour basis for every single day of the year. The business they are in is the repair of damaged tyres!
Our car was packed with our 4 children and our luggage (yes, of course we own a 7-seater). We slowly made our way to the centre of Athens. When we arrived at this small garage, I drove inside. Before I even had a chance to open the door, our car was lifted 1 meter high in the air via a platform. By the time I had opened the window, the worker had already identified the troubled tyre and proceeded to take it off. My kids loved the experience – honestly, it felt like we just made a pit stop at a Formula One race.
The whole tyre was placed into a large bucket filled with water to detect the bubbles betraying the exact trouble spot. I used this method as a child when the tyre of my bicycle had a hole, but we are talking cars here! After the spot was identified, some kind of rubber material was inserted into it, the tyre was again placed into the bucket – and no bubbles made their way to the surface. A minute later all work was completed. The whole process took less then 10 minutes and the charge for this was Euro 8. We drove the 300 km to the Peloponnese without any trouble, and that very same tyre is still in use today.
I am still amazed by the efficiency of this small garage. They do not do any other repair works and cater only for damaged tyres, operating 24 hours every day of the year. Only in Greece…