This is a very special post for the Only in Greece column, as it is written by the most important person in my life – my wife Alexandra. She gives a great insight into how the "southern" cultures work. Simply read and enjoy – I am so proud of her!
Photo by Ramazan Sahin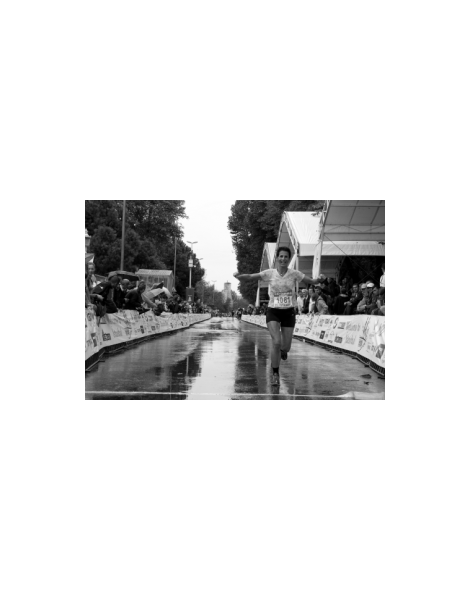 I am Alek, Markus's wife, Greek, age 41, four kids, two dogs, banking job. I am Greek down to the bone and as such I am a passionate person. I am passionate about my family, my kids, my country, my people, my values, Greek traditions and Greek feuds. Another passion of mine is running.
On October 18th 2009 I ran my second ever Marathon, in Istanbul. My first was almost exactly one year ago, in Athens. The decision to participate in Athens was a bit of a mid-life crisis thing, me turning 40 and feeling the need to defy age somehow. Then the buzz of actually hitting the finishing line felt so great, that I decided to do it all again. It was kind of the same high you get, the moment you give birth – I wonder if after four marathons I will have had enough, as this is certainly true for the birth experience.
What appealed to me about the Istanbul race was the fact that it spans over two continents. The city is beautiful and the course is being advertised amongst runners as a must.
Greeks and Turks are in many ways very similar, there is a lot of common heritage; our attitudes are alike. There is an innate empathy and understanding between these two societies as they are intertwined in numerous ways. So I shall recount this event, not from my perspective solely as a Greek, but as the 'southerner' I am. I will not compare it to my experience in Athens, as Greece has had the benefit of organizing Olympics not too long ago, so the Marathon race by now solidly meets international athletic event standards, meaning it is well thought through, planned and predictable. That is an amazing achievement for my country, but the lacking Greek individuality makes me a bit nostalgic. And I certainly found a distinct ethnic identity in Istanbul, which I could totally relate to!
All international marathon races are preceded by a two to three day exhibition, presenting the latest gear in running and fitness, enabling runners to meet up and also pick up their race packs. In Istanbul the exhibition very much had the spirit of yet another bazaar, however with a sports character. Nowhere else will you find athletic clothing in sales baskets nor cheap jewelry and baklava stands next to Nike-'Just Do It'! The pasta stand clearly is not a Turkish strength as it was remarkably badly prepared – they really should have stuck to just baklava, which surely contains the recommended carbohydrate dosage.
On the day of the race, it was evident that the exact location of the starting point seemed to be an unknown to everyone, including the organizers. Buses had been scheduled to take all participants to the start from two collection points in the city at 7am. After a 20-minute drive all buses came to a halt. Some were emptied, some not. Then all were emptied and everyone was standing around until being directed to other buses. There was havoc of people trying to understand which bus to board, and why. Eventually all buses were full again, yet re-shuffled. After 15 minutes on the second bus, none of the buses had moved an inch. At that time there was uniform agreement amongst people wearing the sign 'STAFF' around their neck, that we had already reached the starting point after all, so now would be a good time to empty all buses once and for all. Runners were thus asked to step out into the pouring rain, which is exactly where we spent the remaining hour and fifteen minutes, until the start time. When I crossed the starting line, there was water squashing out of my shoes.
A German voiced his frustration about this confusion with the question: "This has been organized 30 times already. How many more do they need, to get it right!?" Germans would have a hard time understanding the attitude that peace of mind earned through lessons learned is highly overrated. Adrenalin of discovering a whole new world every time anew is more of the stance of the southern way.
The race started with crossing the Bosporus Bridge from the Asian to the European side – the views were absolutely fantastic. The whole course was truly worth it, Istanbul is an amazing city in every respect: beautiful, cultural, sophisticated yet traditional.
Participants were all in it for the love of running. There was a lot of good conversation, bonding, encouragement and camaraderie on the road, even fun: one guy overtook me vigorously on the 32nd km, only to stop a few meters down the road to chat to people standing on the pavement. When he took off, he had a cigarette in his hand and was joyfully smoking it whilst getting on with it.
Drink and food supply are always a worry for runners during such races. Water was indeed in abundance. Food offered is typically a high-energy intake to keep athletes going, like muesli bars and bananas. During this race the fruit offered were apples. Now, how is one expected to chew such a thing on ones very last breath without choking? I decided against experimenting with it myself.
The course profile was definitely easier than the Athens one, instead there were a few add-on challenges, to keep up runners' alertness and test their spirit.
The issue that pre-occupies every woman when engaged in any outdoor activity for several hours is the toilet facilities. Well, there were none: none at all, during the whole course. So the ladies had to figure that one out.
The other thing was the traffic on the course. Roads were of course closed off for cars, but they were very much open to the ambulances providing medical assistance to participants. And in their mind no cars seemed to mean clear roads. Runners were honked and beeped to the side. I wondered whether that one ambulance continuously chasing me out of the way was the only one serving the whole distance of the race.
The person who determined the finishing line location for sure has never once completed a marathon before. When runners finally see the 40 km sign, elation rules as does the thought: 'Dunnit! Homerun now!' And you go for it! In Istanbul you look up only to realize that the homerun ahead of you is a long, steep uphill two kilometers and your heart sinks. Into the abyss.
The finishers' bag holds some recovery stuff that organizers offer runners at the end. This one contained chocolate, these much needed bananas, the medal and a dry T-shirt. It also contained a raincoat! Now wouldn't that have been nice at the beginning of the race to avoid all of us getting drenched to the bone. Finally there was a pre-printed race certificate with space to fill in the blanks of runners' name and time. How is that for efficiency, instead of the usual electronic download that is commonly available automatically over the Internet for each bib number?
Returning to the hotel after the race was an impossible task. All roads were closed because of the race, there were no metros or buses; the only way to go was by taxi. And taxis seemed just as selective as in Greece: on a messy traffic day, they don't want the rides, and most of all they don't want to deal with tourists. It was a miraculous coincidence that I bumped into the one person I actually know in Istanbul, who took care of me in the ever so hospitable Turkish way, and got me back. Thanks to you both, Oya and Mehmet.
I would summarise the whole experience as an extremely colourful one, entertaining, a live offering of the land's ethnicity and spirit. The western cultures strive for perfection in the organisation; southerners rely on their society to fill in the gaps, from the beginning right down to the very end: there was no professional photographer on the course. However, a private Turkish photographer took finish line pictures of everyone coming in. The Internet enables miracles, so he actually managed to find me and sent me mine. For free. He took them because he is passionate about taking pictures. And he found their owners because he wanted to share with them the joy of his work. I applaud this guy, and his heritage. Thanks Ramazan.
And for any of you who happen to be as passionate about running as I am and can empathise with the marathon challenge, I finished in 03:33:07 with a huge smile :). Thanks to my running mentor during training. And thanks to my whole family, who was watching me and inspired me to keep on going until hitting the finishing line.