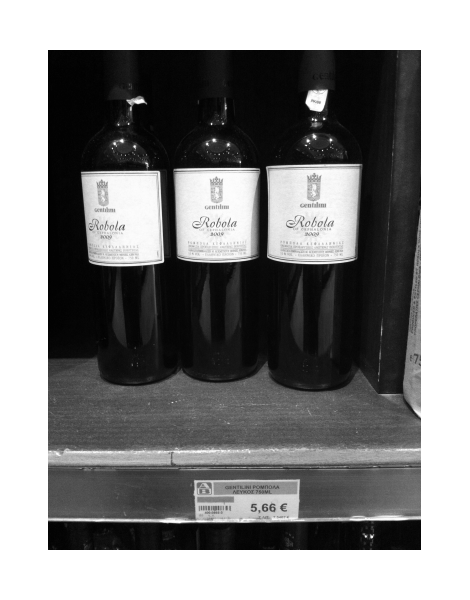 We might just see the beginning of a disorderly default of the local Greek wine market. Wineries have struggled for many months to collect money owed to them by their distributors, while the consumer demand continues to shift hard and fast towards bulk wine. Meanwhile, the pricing of existing stock of bottled wine held by supermarkets, wine shops and restaurants is not governed by logic any longer. In some cases, the only goal is to recover part of the initial investment.
I took the photo yesterday morning at a large branch of AB Vasilopoulos, Greece's largest supermarket chain. I remember well when the Robola from the Gentilini winery was first listed in this chain about a year ago at around 11 Euros. Look carefully at the price now – it includes 23% VAT. We are entering a very dangerous territory: I very much doubt that the winery has ever sold a single bottle of the Robola 2009 at these low prices in the Greek marketplace.
The owner of Gentilini told me that they have sadly no control over AB Vasilopoulos' pricing. The winery did not sell directly to them; the agreement was made by Gentilini's exclusive distribution network. The contract with the distributor was severed before the 2010 vintage was sold to them. It is clearly against Gentilini's interest to see their wine being offered at below cost. If times were not so difficult, they would buy back the wines themselves. Unfortunately this is not an option and all they can do is to wait until the stock has been depleted.
It is a sad reality that the Greek wineries are facing multiple problems in the local market. Cash flows have dried up long ago, distributors have collapsed, and demand for bottled wine above 5 Euros has imploded. One or two years ago, a winery might have been proud to see their wine being offered at a powerful supermarket chain. Today, this feeling has turned into sadness.
On the other hand, quite a few of the medium and larger sized wineries are working hard to introduce "economic" wines to the market. It will be very interesting to keep an eye on this development. Recent growth in the export markets also gives cause for optimism.
There are many power shifts taking place within the Greek wine industry right now. The crisis has torn apart many of the existing business models, and it is this dynamic that will bring real change. Change is what is needed, especially in the current environment.
Pin It