Xinomavro is arguably the most age-worthy Greek red varietal and it can be a treat to taste older vintages. The "Oinosoagapitos" put together a tasting event of mature Xinomavro wines, where participants could either pay a fee, or bring along selected bottles from their own cellars. This was a great idea, and the vintages served went back to 1992. Half the wines were from Boutari and Kir Yianni – this did not come as a surprise, as both estates are very well known, and also produce Xinomavros in descent quantities. I would have liked to see wines from more producers included, but many estates have a relative small annual production to start with. It is therefore not easy to find large selections of mature bottles even in Greece.
What surprised me was that the majority of the bottles were the basic wines from the relevant estates. If the basic wines are capable of ageing so gracefully, a lot more complexity should be expected from the premium wines. What scares me is that the quality of the Xinomavros has shot through the roof over the last few years. The best wines from recent vintages have a tremendous potential to reward anyone who has the time and patience to cellar them for a long time. In 10 years time, people won't believe just how well these wines delivered.
I would like to thank Dimitris Hatzinikolaou and Yiannis Liberopoulos who organised this evening and also led the tasting. It was a fascinating evening, well done!
For more background information on Xinomavro, please read this article at Palate Press.
I indicate below if the wine was the basic or premium product of the estate.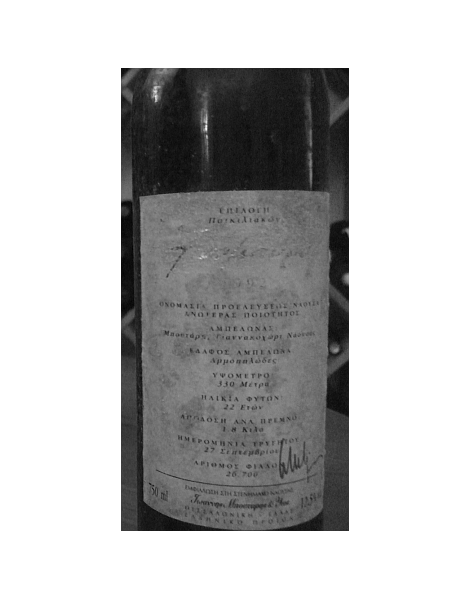 1992 Boutari, Xinomavro (basic)
Fully mature colour with ruby rim. Very open on the nose and quite fruit driven, lots of raspberry and vegetal aromas. If such a thing like "tomato jam" would exist, it surely would smell similar! There were also hints of chocolate and cinnamon. The wine was smooth yet full on the palate and the tannins still had a bite left. I found it to be dried out towards the finish, a bit thin with a bitter note. The nose was great, the palate disappointing. I need to note that this wine received the most votes of the night, so my palate was not in line with the crowd on this particular wine. 14/20
1993 Boutari, Xinomavro (basic)
Again a fully matured colour, but a touch darker in the middle. The nose was much more vegetal than the 1992, with a low primary fruit level. The aromas were dominated by tealeaves and very ripe tomatoes; also a touch of barnyard, with fruits lingering in the background. I liked this nose a lot. The wine was much more lively on the palate with lots of depths and elegance; the mid-palate dominated by ripe and fresh raspberries flavours. The finish was very long, and the fruit crept back up in the aftertaste. A lovely experience! 17+/20
1996 Fountis, Naoussa (basic)
Medium deep cherry colour with a ruby rim. The wine was a bit closed at first, but after a minute it opened up. The aromas reminded me of stewed prunes, there was certainly some sweetness in it. In addition this had a toasted smell, which added an interesting twist to the nose. On the palate the wine was full-bodied with a good level of acidity. The tannins were very smooth, but still there. The finish was a bit short and slightly dried out. The wine really delivered right up to the mid-palate; then it quickly disappeared. 15/20
1996 Fountis, Ktima (premium)
Lighter in colour than the basic wine of the same estate, fully mature with an orange rim. The nose was more refined and elegant – red fruits, dark chocolate and coffee. The wine was full-bodied; but as the fruit just started to kick in, it became totally overpowered by the harsh tannins. Sorry, this one won't be coming around – the tannins have a license to kill. 13+
1997 Kir Yianni, Ramnista (basic)
Gorgeous medium deep garnet with a slightly mature rim. The nose had a surprisingly high level of primary fruit, lots of raspberry flavours, very elegant and teasing. The palate was packed with fresh fruits, the acidity was perfect and the tannins were very smooth and fully integrated. It was mouth-filling; yet not heavy at all, with a long and ever so smooth finish. This is aged Xinomavro at its best, pure elegance in a glass. It is perfect to drink now, but will keep for some years to come. 18/20
2000 Boutari Grande Reserve (premium)
Medium deep bright cherry with only a touch of maturity on the rim. The nose combined vegetal aromas, tomatoes, roasted nuts and caramel, a very interesting combination. On the palate the wine was elegant, raspberries dominated the mid-palate, and the tannins were soft and nicely integrated, the good acidity level lent freshness. There is no rush to drink this wine up, although it might be at the start of its peak. If you look for a soft wine that embodies elegance, this is for you. It could do with a just tiny little bit more bite. 17/20
2000 Kir Yianni, Ramnista (basic)
Light to medium garnet with matured orange rim. The nose was full of vegetal aromas, but also tealeaves and raspberries came through. The wine was round and full on the palate, slightly sweet with a good level of fruit. The tannins were still fairly strong. The mid-palate really was the highlight, very rewarding indeed. The finish was solid, but not as pronounced as the 1997. 16+/20
2005 Vaeni Co-op (basic)
Medium deep strawberry colour, just lightening up on the rim. The nose exhibited a very typical "Beaujolais Noveau" style, which is extremely untypical for a Xinomavro. Lots of cherry aromas, quite fruit driven without any hints of vegetal characteristics. It was similar to a "light" version of a Xinomavro wine. The palate was fairly light with little complexity, but a very nice fresh and fruity wine. I never thought I would ever write this about Xinomavro, but this particular wine was a fresh and easy drinking quaffing wine that was well made. Think about basic Beaujolais that manages to keep its freshness for quite a few years. 15/20
2000 Tsantali, Rapsani Epilegmenos (basic)
Note: OPAP Rapsani wines consist of equal parts of Xinomavro, Krassato and Savroto.
Very deep purple, no maturity at all. The nose was very interesting and combined dark fruits with herbs and roasted nuts. On the palate, the wine was full-bodied, with flavours of cherries, raspberries and chocolate. It was very smooth and fresh, a vibrant wine that lacked possibly some depth, but was drinking rather well.  16/20
2007 Chatzivaritis, Goumenissa (premium)
Note: Under OPAP Goumenissa rules, Negoska must be at least 20% of the blend with Xinomavro.
Medium deep cherry. Aromas of roasted nuts and cherries, also exhibited a nice earthiness, quite concentrated. Full and round on the palate, with raspberries and almond flavours. It became bigger from the start to the finish, the tannins were present, but were already nicely integrated. The style was certainly quite modern. 15+/20